Maryborough Hospital is one of the Maryborough District Health Service's (MDHS) three campuses. It has 143 beds.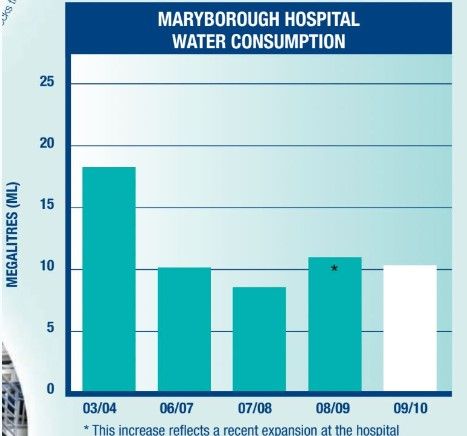 Location:
74-87 Clarendon St, Maryborough, VIC, 3465
Water Use:
The hospital uses water for hand basins, sinks, showers, toilets and many more systems such as sterlizing processes and recycling wastewater. They also use a significant amount of water irrigating gardens that play a significant part in the care they supply.
Implementation:
The hospital had installed flow control valves on all taps and replaced all their single flush toilets. To reduce water usage significantly, they looked to harvest and store its own water in order to irrigate the gardens and grounds and ensure the hospital was achieving the highest possible water efficiency. They installed a PVC liner to an existing underground coal bunker to give an additional 125KL storage capacity, a system to capture the rainwater from the roof and a water management system all used for external irrigation. It also introduced a reticulation system (pumps and pipes) so they could recycle waste water from the sterilizing process.
Results:
Based on rainfall patterns and roof catchments, the capture and storage system at Maryborough Hospital now yields an additional 2,736KL per annum. A further 134KL of recycled water is harvested from the sterilising unit. Expected savings per annum as a result of initiatives are 1,188KL (12% of consumption).