The Westin Melbourne is a modern, elegant and luxurious 5-star hotel in the heart of the city.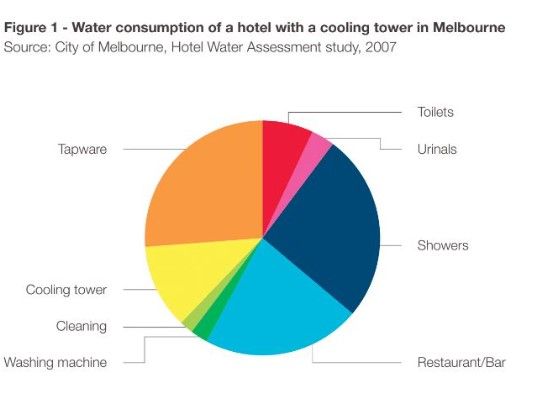 Location:
205 Collins St, Melbourne, VIC, 3000
Water Use:
Last year, over 110,000 guests stayed at the hotel and used over 50 million litres of drinking water.

Implementation:
The Westin Melbourne replaced employee and swimming pool showerheads with a more efficient model. For the 540 guest showers, the hotel has installed new premium shower heads that not only improve water efficiency, but also deliver a luxurious shower that matches its 5-star quality standards.
In addition to its water saving initiatives, the hotel committed to reducing its carbon footprint and now monitors energy consumption to help achieve its overall sustainability goals. The shower head upgrade was projected to make a significant contribution towards these goals, as energy used for heating water accounts for a large proportion of the hotel's overall energy consumption.
Results:
The new shower heads were expected to reduce water use by 12.6 million litres per year. As for the reducing the hotel's carbon footprint, the aforementioned project alone will reduce gas consumption by 3,600 gigajoules per year, and has reduced greenhouse gas emissions by 184.9 tonnes, equivalent to more than 3.6 million black balloons.
Total Project Cost:
$69,067