McCain Foods produces a wide range of frozen potato products, frozen pizzas and dinners and employs over 700 people at its manufacturing facility in Ballarat.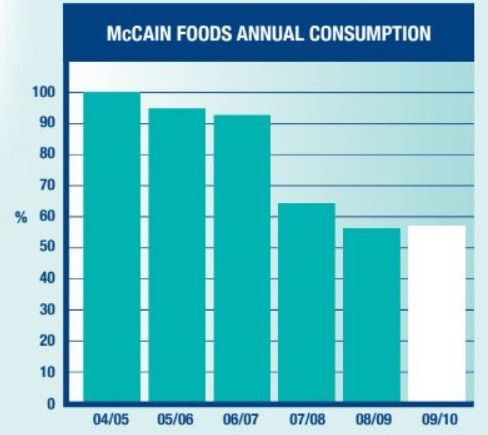 Location:
Ring Road, Wendouree, VIC, 3355
Water Use:
High levels of water are used in the production of various foods. Still, McCain Foods has recorded the highest level of water savings in its region in response to Ballarat's record low water storage levels in 2006.
Implementation:
Water-saving measures have been wide ranging and include installing new equipment to increase internal recycling of process water, replacing equipment with units featuring improved water-efficiency, installing water chillers to improve the efficiency of water-cooling process and adopting water-efficient cleaning methods. McCain installed extra sub-meters to maintain water use in a number of areas helping them to identify and qualify opportunities for further improvements.
Results:
McCain saved over 30% of its annual consumption as a result of implementing an initial phase of projects. The business expected to save a further 15% or more as a result of some second-phase projects. The total projected savings are estimated to be approximately 50% of its previous annual consumption. In terms of best practice, the Wendouree plant's water efficiency is now in the top 20% of 29 plants in the McCain group worldwide, bested only by newer plants.